The Russian Market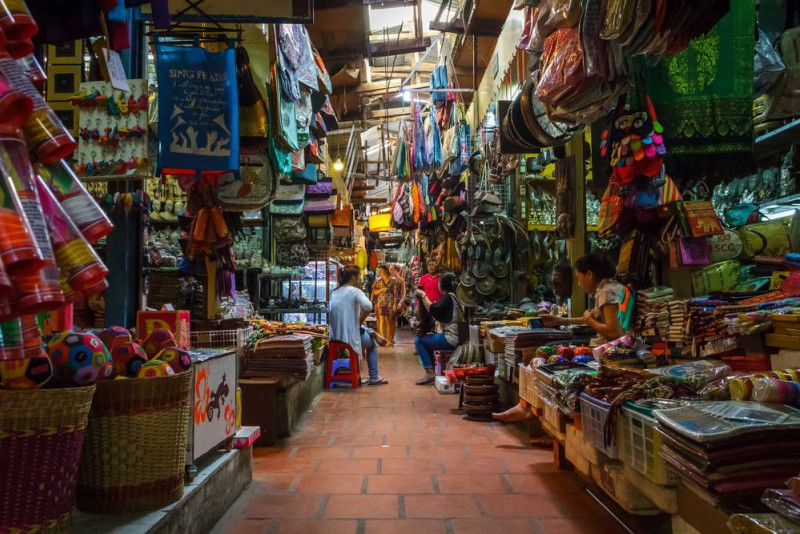 Source: Jeff Cagle / shutterstockRussian Market
Many tuk tuk drivers will call out to you on the streets offering to take you to the Russian Market. It's called "The Russian Market" as this was the popular area amongst Russian expats back in the 1980s. You'll find a few "Russian" things here like Russian dolls and small Russian flags, but the bulk of the selection is classically Cambodian. You can expect to find great souvenirs like silk scarves, spices, woodcarvings, and more.
As one of the largest markets with the widest variety of goods in Phnom Penh, the Russian Market is the best market to visit if you're short on time as you'll find a little bit of everything here.
Bring a bottle of water with you as this market tends to tire you out with the heat.
Recommended tour: Phnom Penh: National Museum, Russian Market & Wat Phnom
Phom Penh 5 Day Itinerary
Below are suggested itineraries for Phnom Penh for a trip of 1 day to five days. 1-2 days in Phnom Penh will be a whirlwind and you will have to carefully choose what you will and will not do. Three days and more allows for time in in the city and a possible day or half day trip. Five days will give you time to get to know Phnom Penh and have some time in the countryside.
1 Day in Phnom Penh Itinerary

If you only have one day, you'll need to decide if you want to go to the Tuol Sleng Genocide Museum and the Killing Fields. It will take at least 5-6 hours to do both on the same day.
Rent a tuk-tuk to the Museum and Killing Field
Then Go to the Royal Palace (only open until 5 pm and you need 2 hours).
In the Evening, visit the Night Market
If you don't do the Museum and Killing Fields,
Start out at the Royal Palace
Then to Wat Ounalom or Wat Phnom
Central Market
Sisowath Quay
Night Market
2 Days in Phnom Penh Itinerary

On your first day, go to the Genocide Museum and the Killing Fields
You will need a break after that
Got to the Night Market in the Evening
Second day:
Royal Palace
Wat Ounalom
Daughters of Cambodia
Sisawath Quay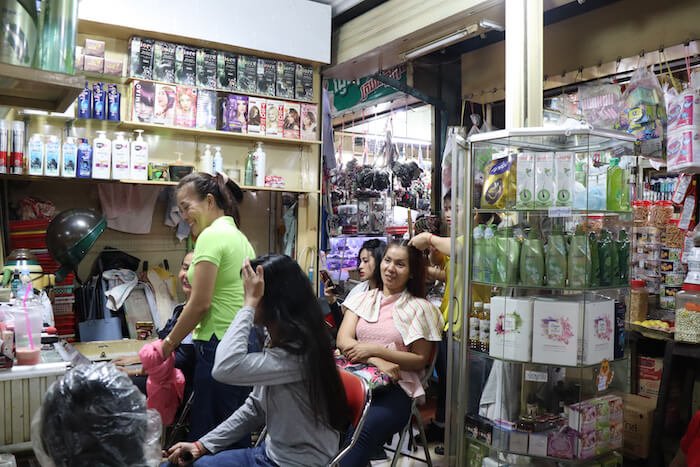 Everything happens in the markets. Here is a hair salon in the Russian Market
3 Days in Phnom Penh Itinerary

You have time to slow down and savor Phnom Penh. In addition to the two day itinerary,
Wat Phnom
Go to Silk Island (see below)
4 Days in Phnom Penh Itinerary

Do the Three day Itinerary. Take it a little slower. Spend more time walking the City and going to the markets.
Do one of the Day or Overnight Trips
5 Days in Phnom Penh Itinerary

Do Days 1-4 above, including a one-day trip out of Phnom Penh.
Al-Serkal Mosque
Go Street Art Hunting
Finish your souvenir hunting at the Central Market, Russian Market or Night Market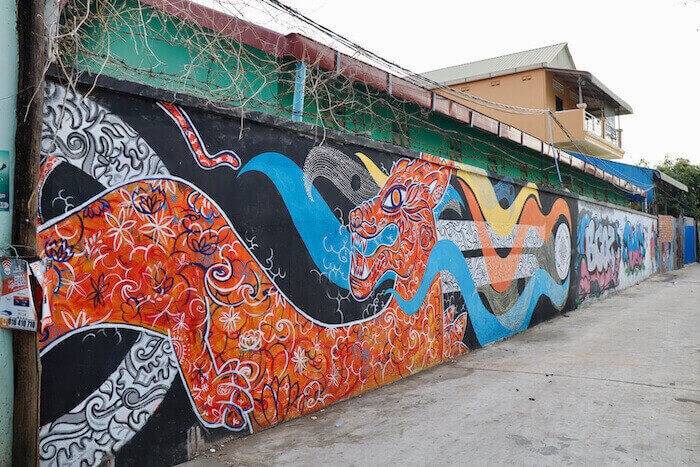 Street 93 in Boeung Kak area is the best place to see street art.
Where to Stay in Phnom Penh
Organizing accommodation is always one of the most important parts of planning a trip, so here's some advice on where to stay in Phnom Penh to make that a little easier. Phnom Penh continues to grow in popularity as a tourist destination, so you shouldn't have a problem finding a place to stay that suits your budget and style. One thing to keep in mind is that it's better to stay somewhere central so that you're close to the city's main attractions and markets.
To say that the Palace Gate Hotel & Resort is one of the best places to stay in Phnom Penh is simply an understatement. This five-star hotel is walking distance from the Royal Palace and has everything you need for a pampered stay. With huge rooms, a rooftop bar, and an outdoor swimming pool, you may not want to leave.
Despite its name, the Okay Boutique Hotel is more than just "okay" for those seeking a balance of comfort and cost. With its Khmer design, central location, and rooftop pool, this four-star hotel delivers on all fronts.
You might be surprised to learn that Airbnb is another option for finding affordable places to stay in Phnom Penh, and if you use our link you get up to $40 off your next booking.
Finding cheap places to stay in Phnom Penh isn't hard, but somewhere both cheap and good is Billabong Hostel. Both dorms and private rooms here come with air-conditioning and Wi-Fi, and the staff are willing to help in whatever way they can.
For more accommodation options in Phnom Penh check out Booking.com. They continuously offer the best rates and their custom service is on point.
See the Exhibits inside the Cambodia National Museum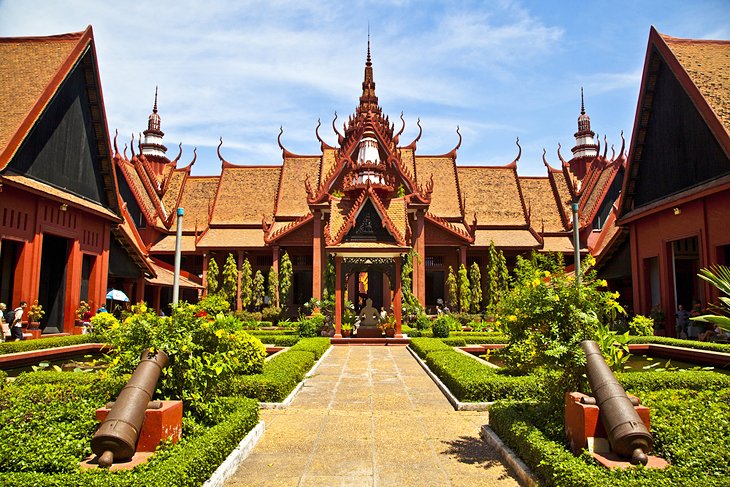 Cambodia National Museum
The traditional Khmer building that houses the national collection was built in 1920.
Inside, the dazzling array of ancient Khmer artistry, with more than 1,800 objects on display, is a must visit for anyone with an interest in Cambodian history.
The major highlights of the museum galleries are the Vishnu head excavated near the vast temple complex of Angkor Wat; the incredible Angkorian collection, with statues from the temples of Koh Ker and Angkor Thom; and the large exhibit of pre-Angkorian artifacts that trace Cambodia's Funan and Chenla periods.
Address: Street 13, Phnom Penh
More Things To Do Phnom Penh, Cambodia
A few more suggestions of things to do in Phnom Penh on your trip to Cambodia.
Cooking Class in Phnom Penh
Although there are many choices of Phnom Penh places to eat, none are quite as interesting as cooking a traditional meal yourself alongside a professional local chef. The Phnom Penh Culinary Delights Tour allows participants the opportunity to shop for local ingredients at the market and then prepare Khmer specialties for lunch. Book now on Viator!
Cinema in Phnom Penh
Going to the cinema is one of the popular things to do around Phnom Penh for both locals and tourists. Modern movie theaters show first-run movies on 4D screens and arthouses, like Meta House, show indie films in more intimate settings.
Phnom Penh Happy Pizza
Marijuana is technically illegal in Cambodia, but some establishments have been able to skirt the law. Eating a Happy Pizza in Phnom Penh means the pizza will be topped with cannabis (which is hardly distinguishable from oregano) and Dirty Old Sailor Bar is known for their edible pot treats. Be warned: the potent pot packs a punch and we personally don't recommend the experience unless you are a pro.
Phnom Penh Sightseeing Tours
In this Phnom Penh guide, we have provided a ton of useful information and facts. However, a professional tour guide can offer deeper insight into the history of Phnom Penh. There are many sightseeing tours in the city, which can be booked in advance of your trip on Viator. 
See the Stupas of Wat Ounalom
Wat Ounalom
The most important temple complex in Cambodia, Wat Ounalom is the headquarters of Buddhism in the country. A stupa within the complex contains one of the Buddha's eyebrow hairs.
The wat was first situated here in 1443 and although it suffered considerable damage during the Khmer Rouge era, with many of its statues and religious iconography destroyed, it is thriving again today.
Of particular note for visitors is a beautiful Buddha statue in the main building's third floor that has been reassembled after being smashed to pieces by the Khmer Rouge and a statue commemorating Huot Tat, the fourth patriarch, who was murdered by Pol Pot, on the 2nd Floor.
Phnom Penh Monks
Young, hairless men wearing saffron robes and carrying faded-to-yellow umbrellas is a common sight in Phnom Penh. Most Cambodians are Buddhist and teenage boys often join the monkhood in Phnom Penh to fund their education (in addition to the spiritual aspect). At temples, monks are often found lounging on steps or benches engaged in conversation or looking at the screen of a smartphone. Freshly-washed robes hang from windows to dry in the sun. In the mornings, some monks participate in a traditional Almsgiving, walking through the city streets in bare feet to accept food donations from devotees in exchange for giving a blessing. Unlike the ceremonious almsgiving in Luang Prabang, in Phnom Penh monks wait until mid-morning when shops are open to make their rounds, stopping at businesses rather than being greeted by waiting Buddhists in the street. 
How To Get To Phnom Penh?
Phnom Penh is not a welcoming city for pedestrians. Most of the locals, expatriates, and tourists choose to travel by motorbike, tuk-tuk or taxi on 1 day in Phnom Penh.
Tuk-Tuk
You will find the tuk-tuk everywhere and the fare never costs more than $ 2 per trip in the city. You can also rent a tuk-tuk for the whole day. For example, if you want to visit some popular places of the city like Killing Fields, Shooting Range or Tonle Bati at a realistic and very affordable price (from 20 to 30 USD) then you should rent a tuk-tuk.
Taxi
On your 1 day in Phnom Penh, you will find not many taxis. Cabs are still very rare in the capital of Cambodia and you usually only see them on the way to the airport.
Wat Ounalom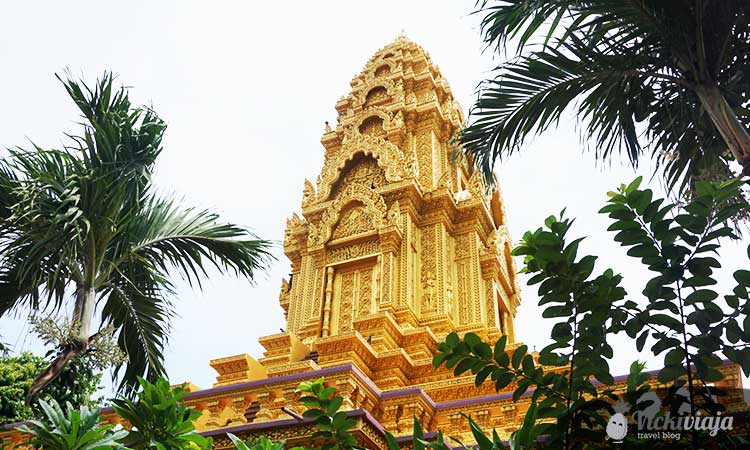 Opening Hours: 06 am – 8 pm
Entrance Fee: free of charge
The Wat Ounalom is located pretty centrally in Phnom Penh, near the royal palace. It is known to be the most important Wat (temple) in Phnom Penh and the Buddhist Center of Cambodia.
It's unbelievable that this temple was being destroyed during the Khmer Rouge dictatorship. Today, you can't find a trace of that anymore as it got rebuilt extremely well.
We were pretty lucky. We didn't check any opening hours before starting to explore the city. In the end, we arrived 15 minutes before the temple was supposed to close for its afternoon break. Thus, we had a little time to explore the inside of it as well. The monk that was supposed to close the door started a nice conversation with us giving us a little insight of the life of a monk in Phnom Penh.
Safety
The whole point of finding transportation in Phnom Penh is to arrive safely at your destination in one piece. In a tuk-tuk, never let go of your bags or valuables and try to keep them near the center of the tuk-tuk to make them harder for any passing rapscallion to grab.
Don't flaunt your gadgets, they can and will get snatched right out of your hands. That means no tuk-tuk selfies.
If you're on the back of a motorbike, put your bag on your front and keep it between you and the driver so thieves can't snatch your bag (with you still attached!).
If you plan to ride a bicycle or moto, get a helmet. An ounce of prevention is worth a pound of cure. 
Transportation in Phnom Penh can be a bit daunting at times, but if you go with the flow every ride will be an adventure, and chances are you'll make it out just fine.
Disclaimer: This article may contain affiliate links. If you make a purchase through these links we earn a small commission at no extra cost to you. Sometimes you'll even save money through our links. We only partner with companies we have personally used and would recommend to our own friends and families.
Phnom Penh City and Orientation
Phnom Penh is located in the south of Cambodia, directly on the Tonle Sap River and the tributary of the Mekong. Phnom Penh International Airport is 10 kilometers west of the city center.
There are no real parts of the city, one rather orientates oneself on cardinal points. In the north of Phnom Penh, for example, is the district around Boeung Kak, which was once considered a backpacker district, but is also in a state of change.
In the south, from 360th Street, there is the Russian market. There are residential and industrial areas in the west and east of the city, and an enormous amount is being built and developed here. Most interesting for travelers is the center and the riverfront. Most of the hotels, bars, restaurants, and many sights are located here. As the city center, the Central Markt is a good reference point for excursions.
Related tour: Angkor to Phnom Penh by Bicycle
Vestiges of Indochina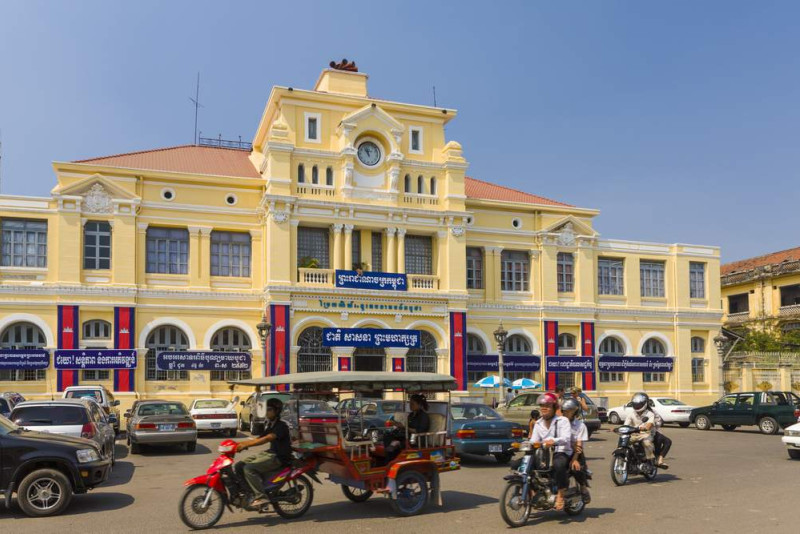 In 1863, Cambodia came under French rule, and along with Vietnam and Laos, formed what was known as Indochina. The French administration restored parts of Angkor Wat, built roads and other public works, and planned to make Phnom Penh look like a provincial French town. So successful were they that in the 1920's, Phnom Penh was known as "the Pearl of Asia."
"…Phnom Penh was known as "the Pearl of Asia.""
While Cambodia regained its independence in 1953, vestiges of French colonization are still evident. As you stroll around town, notice the brightly colored French-styled Post Office at Wat Phnom, the fading yellow facades of grey shutters and ornate balconies of some of the older buildings and of course, the ever present French baguette sold on nearly every street corner as the receptacle for a sandwich with an Asian flair.
If you really want to get your French on, stop by the French Cultural Center, which houses an extensive French library, puts on unique French films, and arranges showings and performances by artists from around the world.
Sisowath Quay Boardwalk
Source: laranik / shutterstockSisowath Quay
Visit the boardwalk in the evening and you'll be rewarded with beautiful views of the orange sun setting over the city. The boardwalk is lined with comfy benches where you can rest as vendors, both adult and adolescent, come up to you selling peanuts, popcorn, beer, coconuts, and more. Keep you beer or soda cans to give to can-collecting kids passing by.
On the main street across from the boardwalk, you'll find both Khmer and Western restaurants, as well as bars serving ice-cold Ankor beer. There are shops to get your shoes repaired, keys made, passport photos taken, hair cut- the whole lot.
Best Time to Visit Phnom Penh
To get the most out of your 48 hours in Phnom Penh you'll want to take into account the best time of year to visit. In a destination like Phnom Penh, the weather can have a huge impact on how much you enjoy the city and its sights. If you visit between May and September, during the wet season, get ready for monsoonal downpours which won't make sightseeing all that fun.
Unlike the wet season, the dry season can be broken down into two shorter seasons, a cool and a hot season. Most people find that the best time to visit Phnom Penh is during the cool season which goes from November through to February, as the weather is warm and mild then. In contrast, the hot season from March to May brings with it hotter, more humid weather which can make the inland city of Phnom Penh a bit stifling.
Now, while the cool season is undoubtedly the busiest time of year for visitors to Phnom Penh, the city is not such a major tourist destination that it ever gets truly crowded. Phnom Penh doesn't have to contend with the same number of tourists as Siem Reap or somewhere like Ho Chi Minh City, so visiting in high season shouldn't be a problem.
Check flights to Phnom Penh from the USA (from $342) and UK (from £335).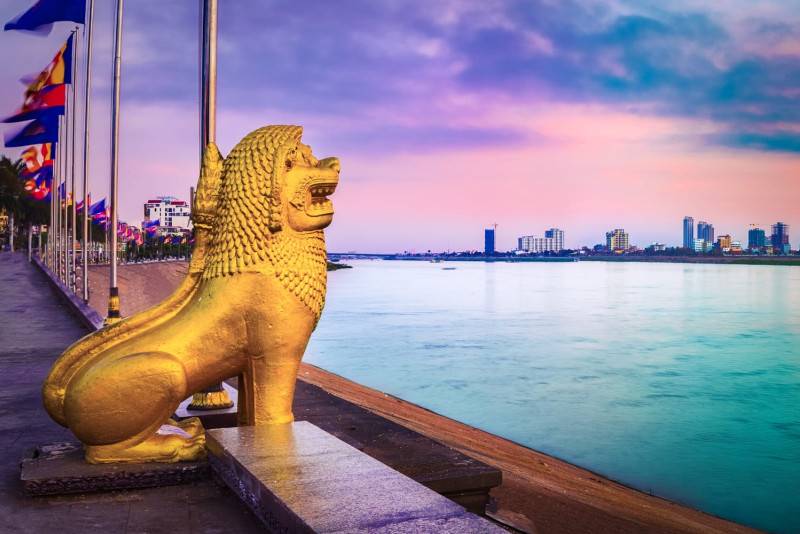 Khoroshunova Olga / shutterstock.com
INTERESTING WALKS
The nicest walk in Phnom Penh is undoubtedly down Sisowath Quay, a 3 km long promenade running along the Tonlé Sap River. Filled with sights, shops, bars, and restaurants, including many pleasant places to stop for an outdoor drink or cup of coffee, a stroll down Sisowath Quay can easily take half a day or more. If you start early enough, you'll get a peek at the droves of Cambodians who pour onto the Quay to start their day with a workout on the public exercise equipment or in large outdoor aerobics classes.
The area around Independence Monument, at the intersection of Sihanouk and Norodo Boulevards, offers another nice walk. Though not far from the Sisowath Quay, this area offers a very different feel. Strolling down the streets parallel to Sihanouk Boulevard will take you past trendy cafés, stylish boutiques, and several embassies.
Wat BotomVatey is a playground for the young and younger.
Phsar Reatrey,a night market on the riverfront, features handicrafts, silks and novelty items.
The boulevards overlooking Tonle Sap River are known for their 19th century villas.
Phnom Tamao Wildlife Rescue Centre adopts animals rescued from traffickers and poachers including the largest collection of rarities such as Siamese crocodiles and Malayan sun bears.
Buses from Phnom Penh to Sihanoukville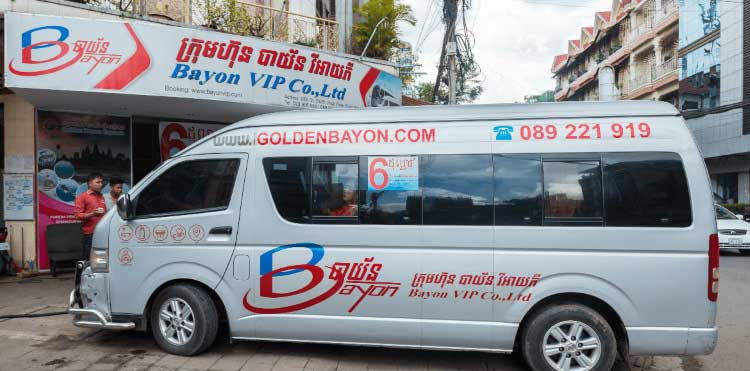 In general, an economy bus ranges from $4-$6 on average and sits roughly 50 people. VIP buses are smaller and more comfortable, sitting around 15 people. They are a bit more expensive at $8-$10 one way.
VIP buses tend to be quicker (4-5 hours) than economy buses (5-6 hours), and the journeys more convenient (e.g. you can ask the driver to stop if you desperately need to go to the toilet). Both types will stop along the way for short toilet and snack breaks. Although you will see Wi-Fi advertised, if you do actually have a connection it will be very slow and unreliable.
30% OFF Buses – Book Now
To give you an idea of bus times, here are the timetables for some of the most popular and best reviewed services (Bayon VIP, Cambodia Post VIP, Mekong Express, Giant Ibis, PSD Xpress).
Bayon VIP Timetable
Phnom Penh to Sihanoukville: 7.15am, 8.45am, 1.30pm, 2.30pm, and 3.30pm.Sihanoukville to Phnom Penh: 8.45am, 9.45am, 1.30pm, and 2.30pm.
Mekong Express Timetable
Phnom Penh to Sihanoukville: 7am, 7.30am, 8am, 8.30am, 1.30pm, 3pm, and 5.30pm.Sihanoukville to Phnom Penh: 7am, 8.30am, 9.30am, 12.30pm, 1.30pm, 3pm, and 5.30pm.
Giant Ibis Timetable
Phnom Penh to Sihanoukville: 8am, 9.30am, and 12.30pm.Sihanoukville to Phnom Penh: 7.30am, 9.30am, 1.30pm, and 3.30pm.
PSD Xpress Timetable
Phnom Penh to Sihanoukville: 8.30am and 2.30pm.Sihanoukville to Phnom Penh: 8.30am and 3.30pm.
30% OFF Buses – Book Now
Wat Phnom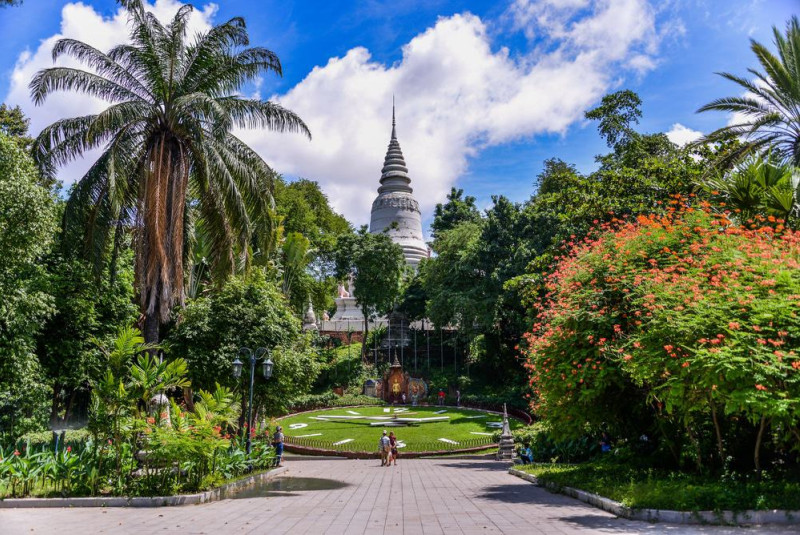 Source: kikujungboy / shutterstockWat Phnom
You won't find many hills in Phnom Penh, and certainly not many covered in grass and trees. That's what makes Wat Phnom so special. Sitting atop a 27 meter-high grassy knoll with scattered trees is Wat Phnom, a pagoda that is said to have first been built in the 1300's. Climb the wide staircase lined with Buddha statues and lions and you'll be met with a traditional temple with an extraordinary purpose.
Home to 4 statues of Buddha, Wat Phnom now serves as a place for local school kids to pray to Buddha for good marks on their school exams and for gamblers to pray for good luck in the casino. Try it out for yourself- it couldn't hurt.
Suggested tour: Half Day Royal Palace, National Musuem and Wat Phnom Tour
Choeung-Ek Killing Fields (9:00-12:00)
The Choueng-ek Killing Fields is one of the sites in Cambodia where collectively more than a million people were killed and buried by the Khmer Rouge regime. during its rule of the country from 1975 to 1979, immediately after the end of the Cambodian Civil War (1970–1975). The mass killings are widely regarded as part of a broad state-sponsored genocide. The Killing fields is located 15 kms away from the city center. It took us 40 minutes to reach the field. We paid $6 each for the entrance and the audio guide. You are not actually compelled to rent an audio guide but I must say IT IS A MUST  or else you might find yourself aimlessly wondering in a blank field. The audio guide makes the whole part of visiting the fields meaningful. There are areas inside the field where you thought are trivial but when you have an audio guide you'll learn how significant that specific area is. Either you have a tour guide or have this audio guide but I tell you, you can't have neither if you want a worthwhile visit.
Audio guide
The whole tour was heart rending. The tour let me understand better the Khmer Rouge era. It painted a picture in my head of how cruel their xenophobic leaders were. It was way even worse than Philippines' Martial law. The tour toned down my energy (in a good way). I was like Riley in the Inside out movie, losing Joy along the tour. Don't get me wrong, I still recommend for you to visit KF when you are in Phnom Penh. It is a must for me. You will definitely be in awe on how Cambodians get through that terror.
The branches used to slid the neck of Cambodians
How to plan a day trip from Phnom Penh
Day tours from Phnom Penh
Even if you're not a group tour person, this can be the most straightforward and economical option. Having all transport and logistics organised for you is a huge bonus, and you can often find interesting itineraries that go beyond the typical day trips destinations. Most companies also offer private tours.
Choose from boutique companies such as Grasshopper Adventures (a social enterprise that organises cycling tours) or browse a range of itineraries from different operators on a website such as Get Your Guide. This is my favourite platform for booking tours – companies are vetted, online payment is secure, and there's a generous refund policy in case plans change. Browse all their Phnom Penh itineraries here.
If you enjoy getting outdoors, the Facebook Group Phnom Penh Hike organises weekly full day excursions focused on nature and trekking. Transfers to/from Phnom Penh by minivan are included, and you'll be accompanied by an English-speaking guide. Group sizes are more intimate so it's a great way to meet expats, locals and other travellers too.
Hiring a driver in Phnom Penh
Another option is to hire a car and driver for the day. This will give you more flexibility to plan your own itinerary, but you'll have to pay a bit extra for the privilege. Prices vary depending on the distance and type of vehicle. As a general rule of thumb, you can expect to pay around 30-40 cents/kilometre for an SUV that seats four passengers.
I recommend finding a driver with good references from other travellers, either by asking around online or by enquiring through your accommodation.
12Go Asia offers an option to book taxis online through a number of private companies, but prices are more expensive (up to double the cost in some instances).
Renting a bicycle
For shorter trips around the countryside and Mekong/Bassac islands, you may like to take your own wheels. I rode a bicycle in Phnom Penh every day when I lived there – but I definitely had some hair-raising experiences. I only recommend riding outside the city (on the islands, for example) where traffic is sparser.
Needless to say you should exercise a high level of caution and use proper safety gear, including a helmet. For peace of mind, I recommend joining a guided bike excursion with Grasshopper Adventures.
Using public transport
Public transport in Cambodia is generally slow going and not exactly conducive to day trips. Only a handful of these destinations can be reached by bus or train.
When using buses in Cambodia, I always book a day or two in advance (longer for popular routes) either directly through the company website or on Bookaway.
A Few of the Best Restaurants in Phnom Penh
David's Restaurant – Asian and Khmer food, noodles, dumplings.
Eleven One Kitchen TTP – Asian and local food.
2. Mid-Range

Bistrot Langka – European cuisine, desserts.
Friends the Restaurant – European and Asian cuisine.
Piccola Italia Da Luigi – great Italian pizza.
3. Others

Try local craft beer at Kingdom Breweries! Entry fee – 15$. A tour of brewery and beer tasting included.
Visit bars and multi-cultural restaurants at Basaac Lane! It's a perfect place for the nightlife in Phnom Penh.
Visit Daughters of Cambodia – a cafe, nail bar, spa and shop that is run by victims of trafficking and sex industry. It's one of the places where you can get a massage in Phnom Penh.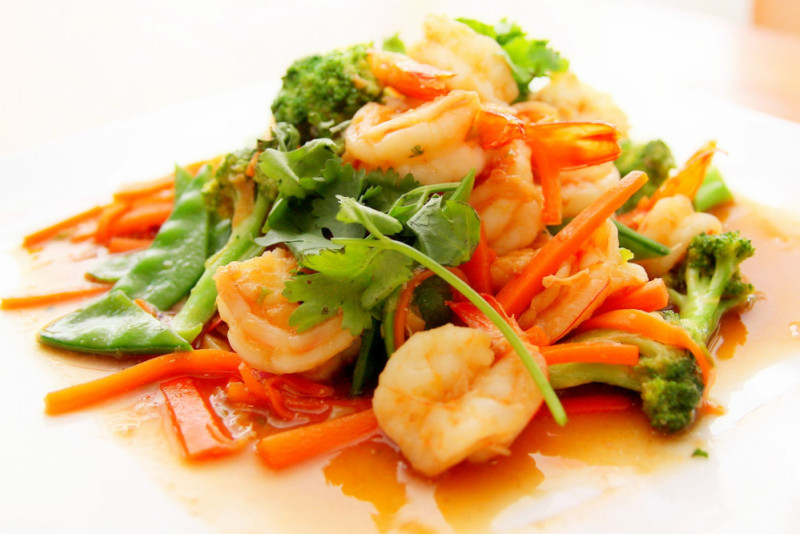 Photo from Pexels, CC0 license.
Support Social Enterprises
It will become quite clear, quite quickly, that there is a sex tourism problem in Phnom Penh.
This is not the post to discuss it in too much detail, or share our disgust at the people who travel to Cambodia to perpetrate this (we do in this one though) but it cannot go unsaid. Any blog post talking about things to do in Phnom Penh which does not point out this deep-rooted and visible problem to future visitors is either ignorant, irresponsible, or both. Worryingly, in contrast to other countries we've visited, there does not appear to be a visible government campaign against it…
However, within this post, we wanted to share a few of the positive social enterprises in the city which are working help improve the socio-economic situation for street kids and marginalised youth in the city. By visiting them, not only are you making your tourist dollars have as positive a contribution as possible, but you are directly supporting the creating of viable, alternative economic paths for marginalised youths.
What to do in Phnom Penh at night
After your riverside wander, head to the Foreign Correspondents Club for a sunset drink, with views overlooking the banks of the Tonle Sap river. The FCC was once the cornerstone of the area, where journalists, aid workers and travelers would meet to swap stories.  
Depending on your preference, we have a couple of dinner recommendations. For high-quality Cambodian fare, Malis restaurant is the place to go. Their focus is on reviving traditional Cambodian dishes that have been lost over time and the setting is beautiful. After dinner, walk around the corner to Bassac Lane, an alleyway with tiny, quirky themed bars that is popular with expats.
A nice mid-range dinner option is Romdeng Restaurant, which serves adventurous dishes like beef with red ants and deep-fried tarantula, which is honestly pretty tasty! They also serve delicious traditional Cambodian dishes that don't include bugs. Romdeng is also a Friends International training restaurant.
If you are looking for somewhere more affordable and local, Sovanna II BBQ is the place to go. Hundreds of locals gather here every evening to enjoy BBQ'd meat and cooked dishes with refreshing local beer. After dinner, walk one street over to Botanico Wine and Beer Garden to enjoy the tranquil setting and an excellent locally made craft beer selection. If you are lucky you might even catch a live music performance there.
For a truly Phnom Penh expat experience, order a late night pizza from Katy Peri's Pizza tuk-tuk, which only delivers from 10:00 pm to 5:00 am. As I'm sure you can imagine, they do great business in this city. Our favorite is the Peri Peri chicken pizza, extra cheese, extra chicken plus garlic. But you do you.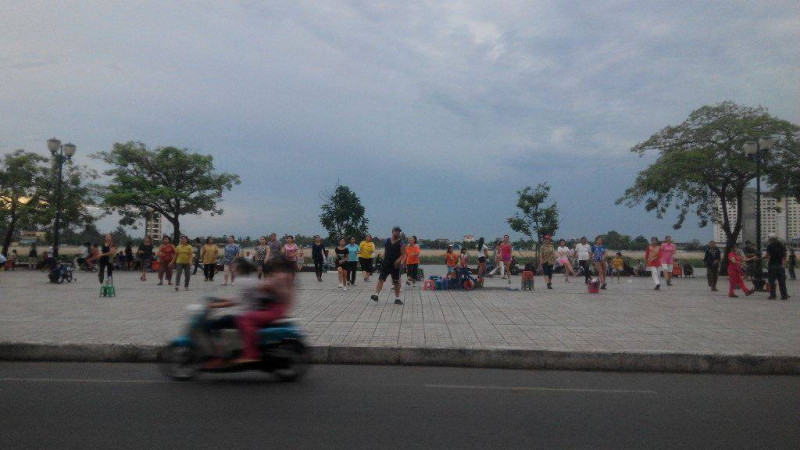 Photo by Jen Joslin.
Where to Eat
You can find almost anything to eat from French to Chinese to Indian to Khmer food in Phnom Penh. Prices are more expensive than other Southeast Asian countries like Vietnam but less expensive than Singapore.
Chez Gaston

Chez Gaston is one of the best French restaurants in Phnom Penh. The Duck breast is well known and is very good. You can have a three-course meal at the bar for $10 or at a table for $13, including a glass of house wine. Simone Seemak, the chef came out to meet us. She was trained at a French restaurant. If you are lucky,  Bruno the owner will stop by to perform magic tricks during your dinner. We especially recommend trying his crème brulee which is made with a special French caramel. Chex Gaston is cash only.
Address: 76 Street 15, Phnom Penh
Daughters of Cambodia Visitor Center

As mentioned earlier, Daughters of Cambodia has an excellent café. They serve food and pastries. The pastries were very rich and the food is excellent. There is a balcony overlooking Sisowath Quay. They close at 5 pm, so best for lunch or an afternoon treat.
Address: 321 Preah Sisowath Quay,
Mok Mony

Mok Mony is a Khmer restaurant in Phnom Penh.  The grilled Betal Leaf with marinated beef is well seasoned and tasty starter. We also had the chive stems, boneless duck and fish/crab amok. The fresh fruit drinks are heavenly. Take note that there is ice in the drink if you are avoiding ice. The bill was $35, a bit pricey, but worth it. If you are interested in Khmer food in Phnom Penh, Mok Mony should be on your list.
Address:
Night market

We recommend that you do at least one meal at the Night Market. Cambodia street food is an experience that you'll be sharing with the locals.
After walking around the market, go to the back behind the stage to find the food stalls. At some of the stalls, they prepare noodle dishes. At others, you select items (fish, meat, vegetables) and they cook for you.
You'll pay for your food and then find a place to sit on the mats near the food stalls. The vendor will bring the food to you. Do take off your shoes before stepping on to the bamboo mats. We enjoyed our meal at the night market.
Address:
Planning 3 Days in Phnom Penh, Cambodia
Our trip to Phnom Penh marked our second visit to the country; the first time through Cambodia we bypassed Phnom Penh in favor of Siem Reap and the temples of Angkor Wat. At the time, all we knew of Phnom Penh was the Killing Fields and S21 Prison – and Dark Tourism simply isn't our travel style. It was on our recent trip to Singapore, however, that friends raved to us about the city sights and nightlife in Phnom Penh, none of which had anything to do with tragedy. Their tales piqued our interest…and two weeks later, we landed in the Phnom Penh International Airport ready to experience the city ourselves.
Inside the carriages
The carriages were renovated in conjunction with the relaunch of the service. The seats are bench-style with two benches facing each other.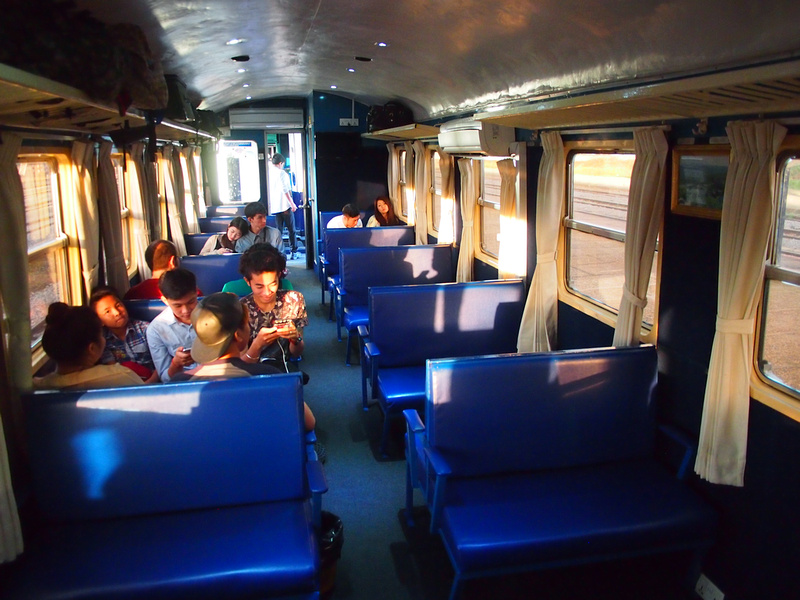 It's a bit tight for my liking, and awkward to have to look at other passengers the whole way. At least I had a good group of seatmates who spoke English and chatted.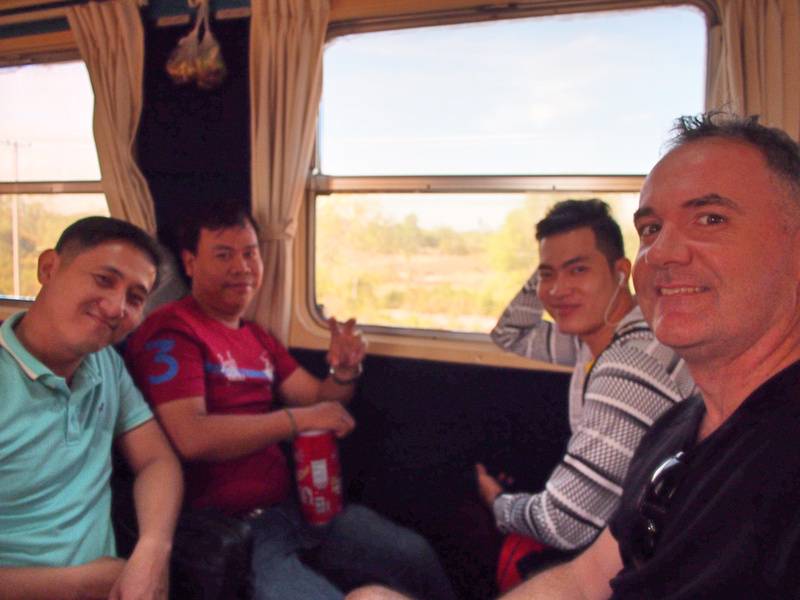 I wandered along the carriages and saw that other carriages were set up in a metro commuter style. I'm glad they didn't sell me one of the standing room only seats.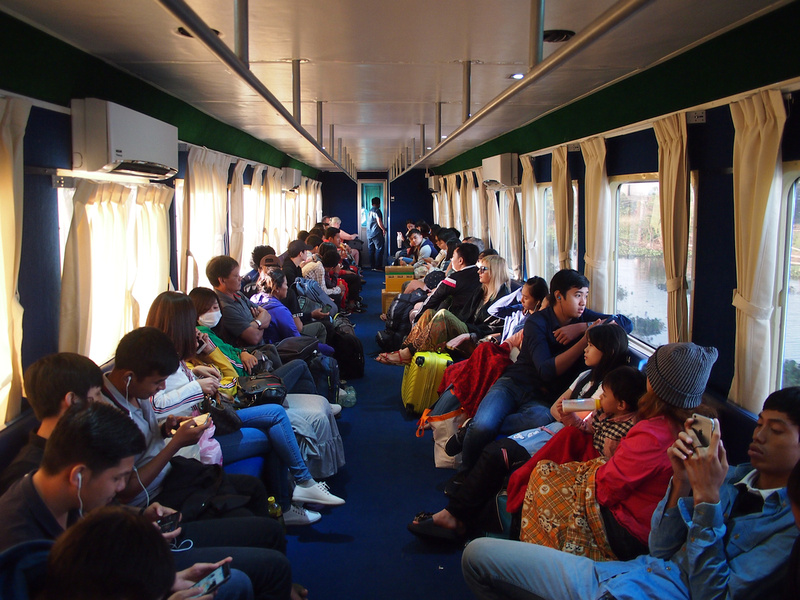 And most importantly I checked the toilet to find a clean western-style toilet.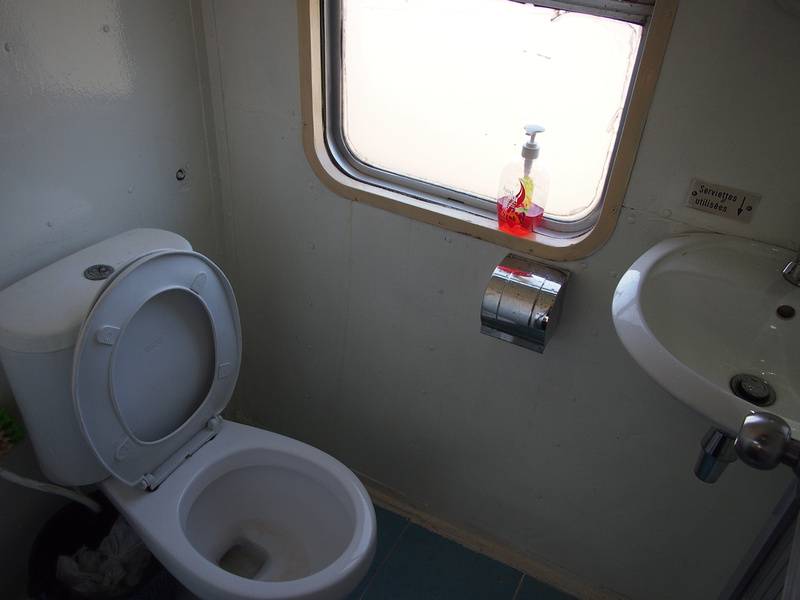 The train felt like being in a big floating lounge room with cushy seats, carpet floor, curtains, and framed pictures. The air conditioning is also household air conditioning units, and crucially it was set at a comfortable temperature. Trains and buses in Southeast Asia usually have airconditioning set to freezing, so this was a comfortable ride.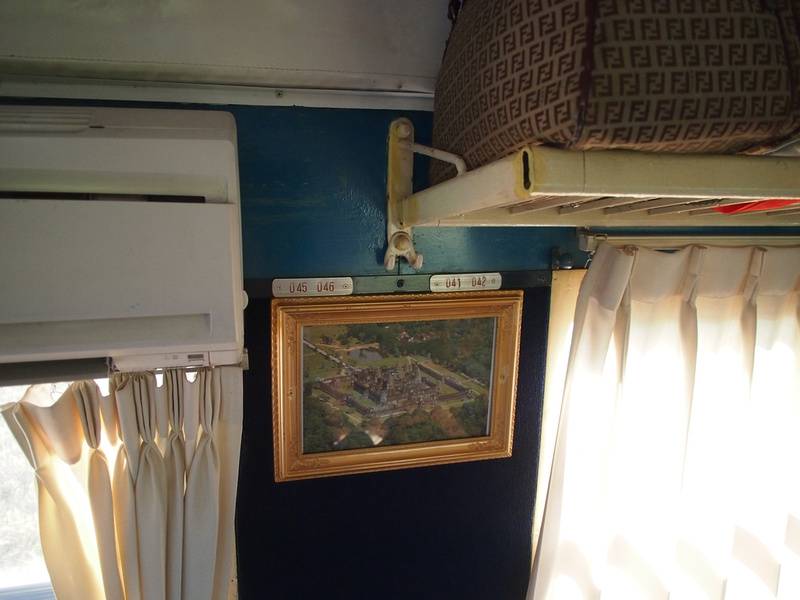 There is a kitchen at the end of the train serving drinks and instant noodles.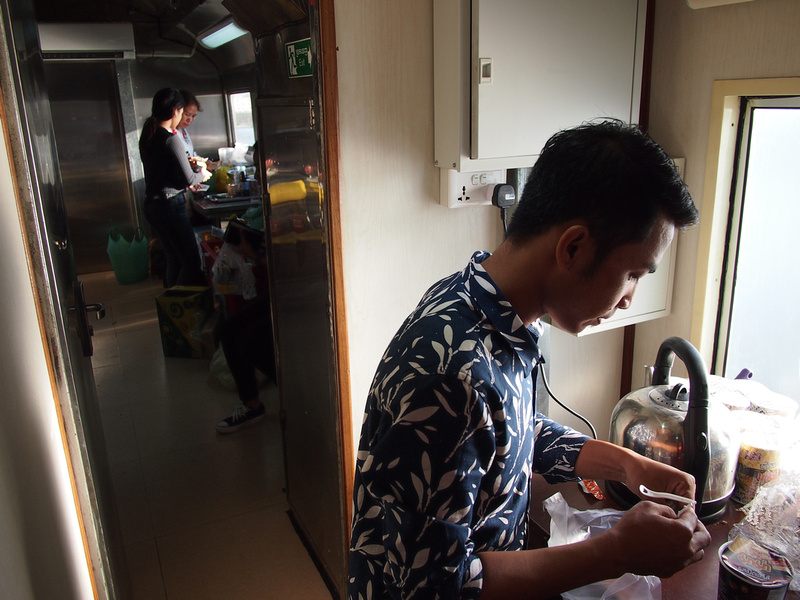 And the view outside is pretty good too.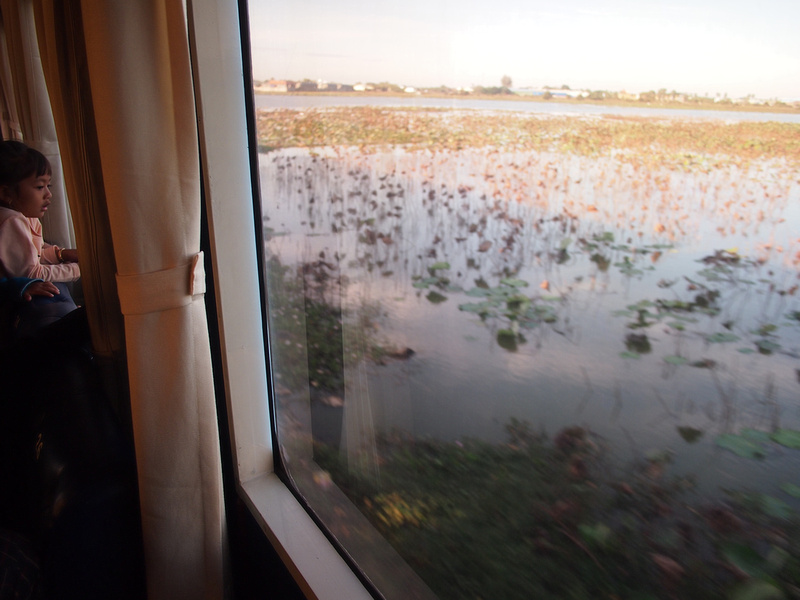 Visit Silk Island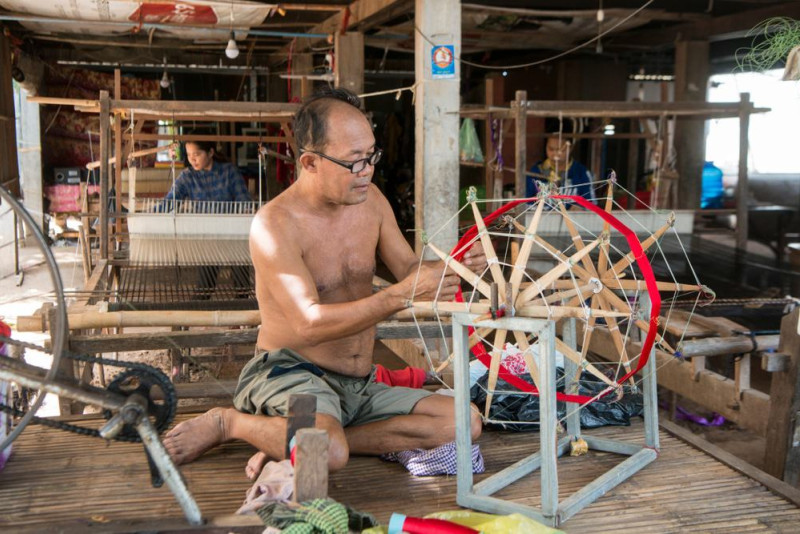 Source: amnat30 / shutterstockSilk Island
All of those silk scarves and cotton tops you see in the markets around Cambodia- most of them come from Silk Island. Also known as Koh Dach, this small island in the middle of Phnom Penh serves as a unique way to see the rural side of Cambodia without traveling far outside the city.
Many locals here live in traditional Cambodian teak wood houses on dirt roads. You'll notice that almost every house has a silk spinning machine under their home where women are busy hand-making these gorgeous accessories.
On the island is a silk factory where caterpillars produce silk and staff harvest them. Take a tour by the factory guide and buy silk products for a fraction of the price. Afterwards, ask the locals to point you in the direction of the yummy (and cheap) local riverside restaurant. Have an authentic meal then jump in the river with your clothes on as the locals do.
Bring a bicycle or motorbike as the best way to explore the island.
Related tour: Silk Cruise along the Mekong River from Phnom Penh
Discover Cambodia's unique Street food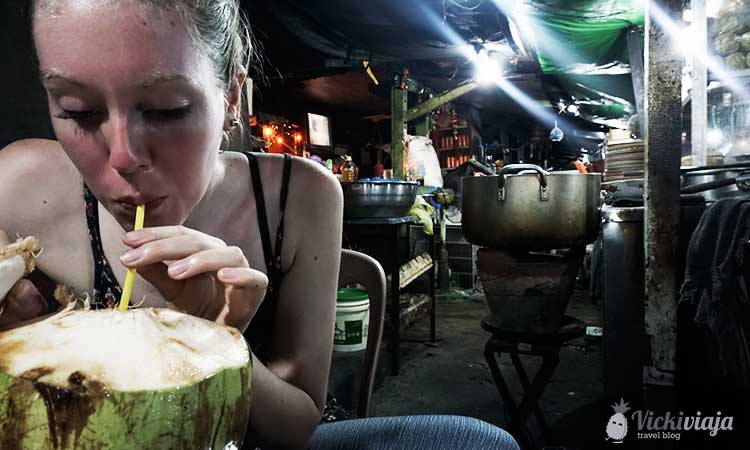 One of the things that I miss most about Cambodia is its amazing food. It not only is affordable but also super yummy. Especially the street food made our mouth water. 
Anyway, Phnom Penh is one of the places with the most diversity when it comes to prices. If you feel like eating in a Touristy restaurant you might get charged Western prices. Around the corner in a local restaurant or at a little street food stand, you can get a nice filling meal for around one dollar. Unbelievable. And often the street food was even better than the food the restaurants offered. Even if it was just fried rice with egg. It's just really good.
My absolute favorite was Amock. Yummy! Amock is some kind of curry that gets cooked with coconut milk and served with veggies. Although, the original version is with fish you can also find it with chicken, veggies, and Tofu. My favorites were the chicken and vegetable versions. But all of them were really good, though.
Just try what looks good and if you are scared – like so many travelers- of getting some kind of food poisoning: Just eat where the locals are eating. They know what is good. We had street food almost every day while being in Cambodia and we didn't feel bad even once. So don't worry!
But not only amazing food can be found on the streets of Cambodia's capital city. Make sure to also check out the amazing street art in Phnom Penh.